Full Season Bouquet Subscription (22 Weeks)
Regular price
$825.00 USD
Regular price
Sale price
$825.00 USD
Unit price
per
Sale
Sold out
This package is perfect for those who love locally grown flowers for the entire season. It's also a great choice for local businesses looking to have fresh flowers in their lobby each week, or a wonderful gift to someone special to last throughout the growing season. 
This Bouquet Subscription offers you a weekly seasonal bouquet from May through October (22 Bouquets). Delivery is included at a discounted rate, within 15 miles of our farm at 356 Bethlehem Circle, in Leesville. Please contact us for quotes outside of that distance. Deliveries to Lexington and surrounding areas will be on Tuesdays, and deliveries to Leesville and surrounding areas will be on Fridays.
Pick up Locations:
Our Farm - 356 Bethlehem Circle, in Leesville - Tuesday & Friday 4pm-6pm
Carolina Keto Cakes - 225 Charter Oak Rd, Lexington - Tuesdays 1pm-5pm
Homeland Craft Beer & Wine - 103 Main St., Leesville - Fridays 2pm-5pm
Throughout the season, this Bouquet Subscription will include pollenless pro cut sunflowers, zinnias, dahlias, gladiolus, lilies, marigolds, lisianthus, snapdragons, amaranth, celosia, and many other beautiful flowers and greenery.

This Bouquet Subscriptions will start the week of May 2, and end the week of October 23, depending on weather conditions and product availability. *There will be no bouquet deliveries or pickups the weeks of May 8, July 3, or Aug 14, or Oct 16.*
Delivery

*Delivery costs include any location within 15 miles from our farm at 356 Bethlehem Circle, in Leesville. Please contact us for quotes outside this radius. We reserve the right to refuse certain delivery areas. 

We harvest and condition our flowers so that they are fresh when we deliver them. We will deliver a floral bucket at the 1st delivery with water in it, and you are responsible for putting out that same floral bucket with water filled 1/3 of the way at the following deliveries. We do not want your flowers to die, so please remember to place your bucket outside. We deliver on Tuesdays and Fridays between 11am-6pm. If you do not have a bucket out, we will try our best to put it in a shaded spot near your door.
Refund Policy

There are no refunds, either full or partial, for cancellation of the bouquet subscription once purchased. Due to the perishable nature of our product, we have a strict no refund/return policy. If there is a problem with your order please take a photo and get in touch within 24 hours, we will do our best to address the problem.

There are no rain checks on the bouquet subscriptions - for example if you go on vacation or away, please arrange for someone to come to your house or your pick up location to pick up your bouquet so that they can enjoy it. Please email to let us know if someone will be picking up your subscription in your place. Bouquets not picked up will be donated.
Care Instructions

- Start with a clean vase

- Replenish the vase water frequently. Change the water entirely every 2-3 days.

- Trim at least a half inch of stem off your flowers before you put them in a vase and each time you change the water.

- Keep your flowers away from heat and bright light.

- Avoid sitting your flowers beside ripening fruit or vegetables, especially bananas and apples.
Share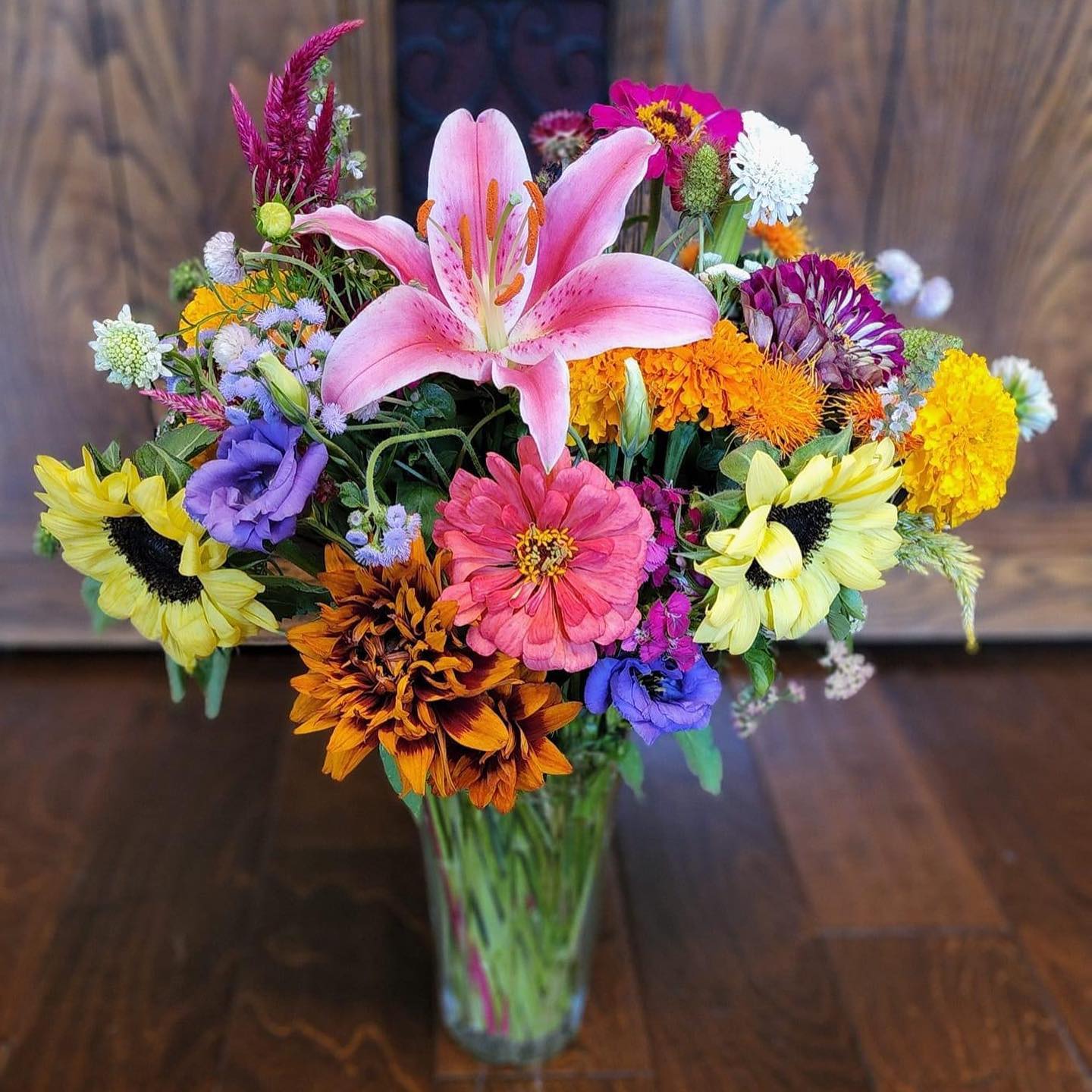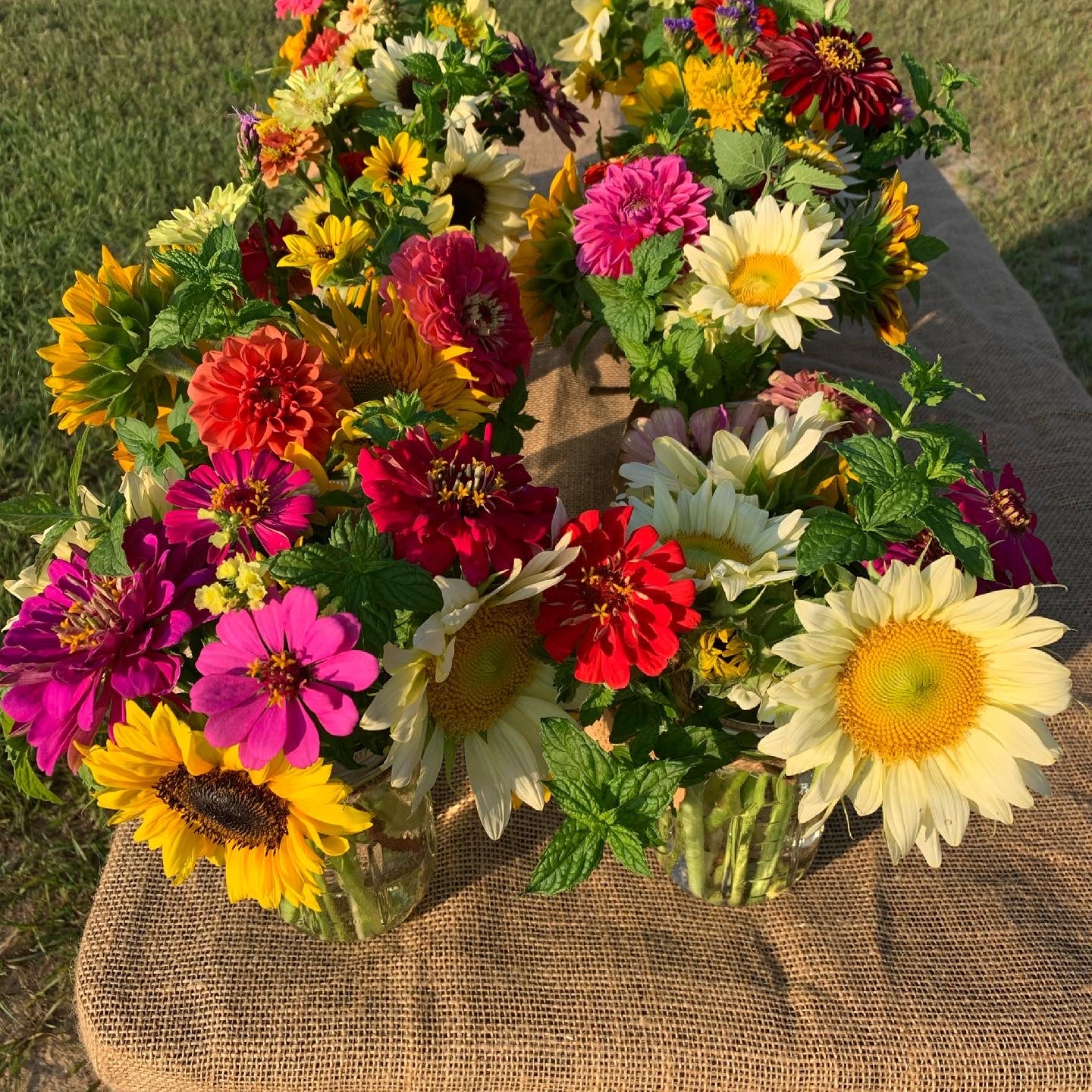 "The Earth Laughs in Flowers"